The South Suburban PCC is pleased to share the following upcoming events: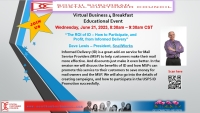 The ROI of ID – How to Participate, and Profit, from Informed Delivery. Dave Lewis discussed Informed Delivery from an Industry perspective. How to do the program, and why you should.
| | |
| --- | --- |
| Event Date | 06-21-2023 8:30 am |
| Capacity | 500 |
| Individual Price | No Charge |
Latest News
Join and/or Sponsor the South Suburban Postal Customer Council
The South Suburban Postal Customer Council (SSPCC) works hard to provide direct mail professionals and their companies with the postal knowledge, expert advise, networking opportunities and best practices that will help their businesses succeed.
Individual Membership
Join today! Individual membership in The South Suburban Postal Customer Council is free. As a member you will recieve email notifications of postal news and our events. In addition you will recieve various mailings on upcoming events and important postal news that effects our area.
Sponsorship Opportunites
The SSPCC does not receive funding from the USPS. Our only source of revenue is from the events we organize. Due to the pandemic, we have only been able to offer free online events this year. In order to continue providing the highest level of service possible to our industry, we are looking for corporate sponsors to help us fund our programs.
Would your organization be willing to support the SSPCC by serving as a sponsor in 2021? A SSPCC sponsorship will increase the visibility and reputation of your organization in the direct marketing community. Sponsors will be recognized on the SSPCC website, in event mailings, in our newsletters, and more. Benefits of each sponsorship are detailed below. In addition specfic event or service sponsorships may become available throughtout the year such as print services, event meals, or extraneous event costs.
2023 Sponsors
Priority Express - $500+
Priority - $300 - $499
First Class - $150 -$300
For More information contact us at This email address is being protected from spambots. You need JavaScript enabled to view it..